Weekjewegindrenthe
Date: 03/17/2005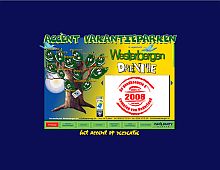 I love the choice of colors in this design, namely, the various greens. And the big CSS buttons at the top really add a nice finishing touch.
Rate It:
Color Scheme
Hovered color:
Selected color:
Comments (2)
It's a nice design, but I'm sorry - I don't quite see what it's doing here. It features serveral rendering bugs, the image-sides are not properly anti-aliased, some areas are really too squeezed, and there is no background whatsoever, rendering it fairly boring.

Don't get me wrong, I'm sure it serves its purpose well, but I don't think its design warrants it mention here.
I agree, It is kinda yucko...the rounded corners on the header image look awful...
#2:

A dude...

on 06/22 at 11:18 PM
(Total Pages: 1)
Commenting is not available in this weblog entry.