Warmwell Holiday Park
Date: 08/01/2006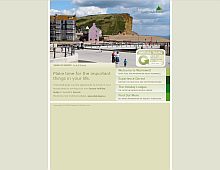 Rate It:
Color Scheme
Hovered color:
Selected color:
Comments (2)
Broken in Firefox!
#1:

A dude...

on 07/31 at 08:58 PM
Everything appeared to work in Firefox 2.0.0.6 or whatever.

My only beef if there would be one is to reveal how the 360 Virtual Tours might be navigated without having to click open a special window to do so. Sure it's no SHOW STOPPER... but one more click... one more open window that's got to be closed.

Really like the site design in and of itself though!
#2:

cssdriveMIKE

on 09/27 at 04:48 PM
(Total Pages: 1)
Commenting is not available in this weblog entry.