Unmatchedstyle
Date: 07/22/2005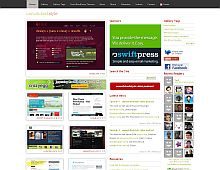 This design for Unmatchedstyle is simply gorgeous. Very spacious and sleek. I'm sure this will be addressed very soon, but resizing the browser in IE6 currently returns an error.
Rate It:
Color Scheme
Hovered color:
Selected color:
Comments (4)
I don't know what all the fuss is about... this site is OK... Nice and simple... but not so impresive. Same features, updates are like 1 in every 2 weeks. The owner talks a lot, but usually no action... Let's see if really does something.
#1:

Penta

on 07/22 at 05:43 PM
Mainly I like the spaciousness, speaking of which, my site CSSDrive could use some of. :)
#2:
admin
on 07/22 at 08:54 PM
I agree, the redesign of UnmatchedStyle is beautiful. I didn't think it could get much better than what it was. Looks great, good color, and easy to read. clean.
The site is elegant and I am impressed by the Horizontal Navigation. Overall the redesign is better than the previous version
#4:
sc18
on 07/23 at 10:51 PM
(Total Pages: 1)