Union Gospel Mission Van
Date: 11/06/2009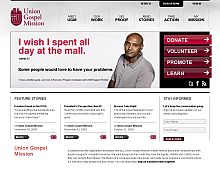 Rate It:
Color Scheme
Hovered color:
Selected color:
Comments (3)
I love the color scheme. It's a nice site look too.
I think the design is clean, I think its efficient. My only gripe with it is that it doesn't have a wide color palette. I'd introduce some more colors for highlights.
Thanks for the feedback! We had a lot of fun working with this site with UGM and were pretty pleased how it turned out. We wanted to make sure it came across clean and crisp.
#3:
Doug
on 12/04 at 11:48 PM
(Total Pages: 1)
Commenting is not available in this weblog entry.