Trendy Pet
Date: 02/05/2007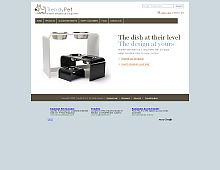 Rate It:
Color Scheme
Hovered color:
Selected color:
Comments (4)
nice clean design, love the colors, very modern look
#1:

Chase

on 02/05 at 11:58 AM
Very neat and clean website, images used are cleverly chosen
#2:

SaltyRice

on 02/05 at 03:22 PM
I love the simple, clean design. The navigation is very straight forward and user friendly.
#3:

Vegan1

on 02/05 at 03:39 PM
Wow - couldn't wait to buy some dog bowls. This site rocks my socks.
#4:

Wanna Buyabowl

on 02/06 at 09:40 PM
(Total Pages: 1)
Commenting is not available in this weblog entry.