Tarek Shalaby
Date: 07/27/2009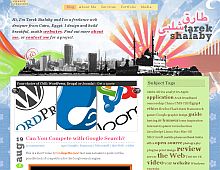 Rate It:
Color Scheme
Hovered color:
Selected color:
Comments (4)
Just looking at the thumbnail, this site screamed "WORDPRESS!!!!!!!!!!!!!!!!!!" nice colours, the "change background" is just plain stupid, and a total waste of time to consider including...who in the hell wants to "change background"?!?!... maybe change the colour of my dining room, but not a website.. nice try... anyhoo, I am uneasy about a designers that heavily use cms's ( WordPress is not really a cms, but some will argue ) etc... for the most part, 95% of the programming is done out of the box... its mostly "Template builder"... not really web developer... but that's just my opinion, look at the "gazillion" Wordpress sites out there! they all look the same for the most part, yeah nice footer, header, side bar graphics, background ( which in this case, we get the exciting feature to makey it nicee wit different li'l pics...awwww... cute.. NOT! but still, these WordPress sites/designers/whatever fall into a pile of "sameness" ( My word )... Just another WordPress cookie cutter site... YAWNNNNNNNN!
#1:

a guy

on 07/28 at 06:15 AM
Wow, harsh comments. Most of the stuff around these days is wordpress so don't be too hard on them. My own stuff is hand coded so I can see your point though.
I don't mean to be "mean"... but, come on! the industry is becoming bloated with "template makers" calling themselves web developers... you download WordPress, you're 95% done! eeesh, that's why the industry is getting watered down with all of these "home shops" popping up offering "full blown web design service" for $500 a pop. These guys sell themselves as web design professionals, advertise stupidly low prices, then download WordPress, and muck with it to make it look a bit different then the one they downloaded... I see ads of these guys offering full blown sites in "3 days" launched! They are f-ing the business up for the guy ( and gals ) out there that actually start with a blank document. Code the site, create original graphical elements, layouts etc... a real coder spends a month on a project and customers think that your efforts are worth $500 because "the other guy can do it for that"...
#3:

a guy

on 07/30 at 06:25 AM
A mere online presence won't serve the purpose of reaching out and impressing your target audience, to beat the competition you need a well designed website with a good search rank and for that you need help of companies which provide complete solutions in website designing and development and search engine optimization.
(Total Pages: 1)
Commenting is not available in this weblog entry.