Superfluous Banter
Date: 07/27/2006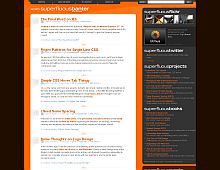 Not a fan of the orange scheme so much, but the round smooth corners are a very nice touch.
Rate It:
Color Scheme
Hovered color:
Selected color:
Comments (1)
Too orangy, and what's with the name? Nobody is going to remember that, i can't even prenounce it properly...
(Total Pages: 1)
Commenting is not available in this weblog entry.