Stuart Row
Date: 03/25/2005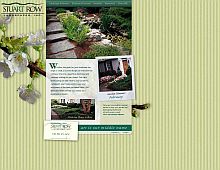 A perfect demonstration of using CSS's fixed background to create something lovely.
Rate It:
Color Scheme
Hovered color:
Selected color:
Comments (2)
I really like the idea of the fixed image as background. The layout itself is really neat : )
#1:
yumiko
on 03/29 at 05:00 PM
Very originally presented: an asset to the business. The fixed background manages to remove some of the linearity most sites suffer from.
(Total Pages: 1)