Speedy Media Group
Date: 04/22/2006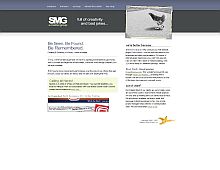 A nice simple layout with an attractive header. I like the subtle horizontal shadow transitioning between the header and the rest of the content.
Rate It:
Color Scheme
Hovered color:
Selected color:
Comments (2)
Good mix of colors. Nice clean look!
#1:
mark
on 04/23 at 12:48 PM
dude, these guys are funny and do crazy clean work - I love chickens with high tops too! Great Design, Even Better Concept!
#2:

Liz Geener

on 04/24 at 11:17 AM
(Total Pages: 1)