Southern Coastal
Date: 04/01/2005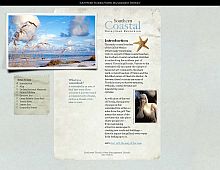 Absolutely eye pleasing, warm design. The only beef I have is that the right most content column could be widened a bit considering its role.
Rate It:
Color Scheme
Hovered color:
Selected color:
Comments (4)
A very beautiful site, however not so good at 800X600. Big gaps appear in the text with the CSS turned off and there is no jump to the navigation for users of screen readers, braille pads etc. Nevertheless a great site - I particularly like the menu.
#1:

Andy

on 04/08 at 03:12 PM
Can I just say, "wow"? How did you? Could you show me? I'll work for cookies and milk... Well, I can't pay the rent with cookies and milk. But, as they say around here, "Dude, this is awesome"
#2:

nouks

on 11/03 at 07:55 AM
Thats magnificent! This is truely an example of the beauty of XHTML+CSS design. You should submit it to the CSSZengarden. Also, I noticed that your calling to a popup.js file - how is that used?
#3:
mike
on 01/24 at 05:01 PM
As with most of the rest of Florida, the majority of people in this watershed live within 10 miles from the gulf. This means that many of the activities that take place where people live — from maintaining attractive landscapes to creating new roads and buildings — directly impact the gulf and every water body leading up to it.
(Total Pages: 1)
Commenting is not available in this weblog entry.