Seeking Alpha
Date: 04/09/2008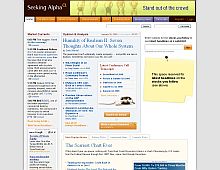 Rate It:
Color Scheme
Hovered color:
Selected color:
Comments (3)
I don't understand why this site was featured? I don't think the designer could have chosen a worse shade of brown and it looks like a site that was designed in the 90's.
#1:
mooty
on 04/09 at 11:42 PM
Not only is it not very attractive but it doesn't validate. 92 errors!
#2:
Patty
on 05/02 at 01:19 AM
Hi,

Once again after crash Nifty has started going up. Now we suggest all rises should be used as an opportunity to exit old long positions.
This bull run will continue for few more days. Overall market is in bearish mood as in medium term its just a small rally due to short covering
and result season.


Happy Trading,

ShareGyan
(Total Pages: 1)
Commenting is not available in this weblog entry.