Safarista
Date: 03/27/2010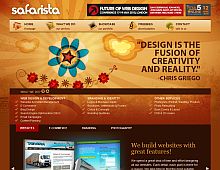 Rate It:
Color Scheme
Hovered color:
Selected color:
Comments (11)
I'd use of the golden color in the website template.
nice concept and good use of illustrations too :)
ergtu dgtyu ghd straighteners GHD Hair Straightener store.The new ghd Straighteners stylers including ghd Purple,pink ghd mk4,ghd iv styler,gold and black are on sale.
Very good design I like your website.I have you bookmarked to delicious for your site
Hostgator
Our very interesting that the color table ..
That will help me a lot!
Congratulations!
otimização de sites
#9:
Brzone
on 04/24 at 07:05 AM
seks tv sekstvizle sekstivi sekstelevizyon seksi izle
Commenting is not available in this weblog entry.