Rotondo
Date: 07/04/2009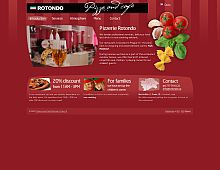 Rate It:
Color Scheme
Hovered color:
Selected color:
Comments (4)
Nice looking site. I like the fact that this site uses unusual shapes throughout rather than the typical box look... The image of the fork on "Menu" seems a bit odd though, should have made the fork come right out of the top of the browser rather than just cut off like that...
#1:

aguy

on 07/04 at 10:04 PM
Agree with above comments. Nice attempt at being unique.
I think this is a nice piece of design work, excellent job.
I think this is a nice piece of design work
(Total Pages: 1)