Rollyo
Date: 10/28/2005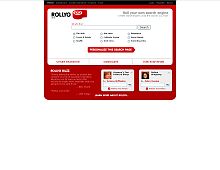 Red is a tough color to pull off, but when it works, it works great in grabbing your attention.
Rate It:
Color Scheme
Hovered color:
Selected color:
Comments (1)
Dan is my favorite web-developer / css coder, he was the on who inspired me to switch to full CSS based websites, and i'm lovin it!

All of his work is exceptional, and this is no exception. Great job Dan :)
(Total Pages: 1)
Commenting is not available in this weblog entry.