Radiant Plumbing
Date: 10/24/2007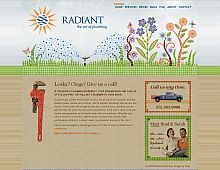 Rate It:
Color Scheme
Hovered color:
Selected color:
Comments (4)
Great website, horrible 'Plumbing' website.
#2:

John

on 10/24 at 05:42 PM
looks good, but I do agree, doesn't look like anything even related to plumbing!!..??..was that plumbing?...
#3:

A dude...

on 10/25 at 04:13 AM
seems to me that's the point of the site...doing something in the plumbing field that's not been done. the link to plumbing is easy to see with the tools and stuff. I think it's awesome.
#4:

rochic

on 10/26 at 04:20 PM
(Total Pages: 1)
Commenting is not available in this weblog entry.