Rachael Taylor
Date: 02/23/2009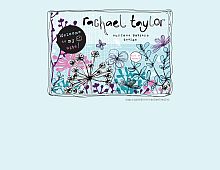 Rate It:
Color Scheme
Hovered color:
Selected color:
Comments (6)
gezgin
#1:

gezgin

on 02/25 at 03:15 PM
Very cool and hip. I like the attitude. Jolly good design that!
splash screen with a ( almost hidden ) "click here to enter" button?... I thought this concept went of of style 8 or 9 years ago!?
#3:

aguy

on 02/27 at 02:06 PM
@aguy Yes it's true. You don't see a lot of sites with a splash screen. It does add a more friendly welcome to the site and if it's not the actual index page there isn't a technical problem with it.
#4:
Si
on 03/07 at 12:14 PM
quirky site, love it!
#5:

jen

on 03/11 at 09:12 AM
really different & unique. I like the overall style!:)
#6:

liz

on 03/11 at 09:15 AM
(Total Pages: 1)