PR Blogger
Date: 02/10/2006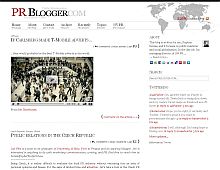 It's difficult to find colors to compliment a black background, but I think the red header just gave me a jolt of inspiration.
Rate It:
Color Scheme
Hovered color:
Selected color:
Comments (7)
Awesome! I have read a lot on this topic, but you definitely give it a good vibe. This is a great post. Will be back to read more!
Cheers,
warhammer online leveling guides
I can see that you are putting a lot of time and effort into your blog and detailed articles! I am deeply in love with every single piece of information you post here.You have very informative information to help me with my leveling guide and gold guide for mmorpg games. Will be back often to read more updates!
Eve Online Guide
Looks cool, I might use something like that on my warhammer leveling site
#5:

Jason

on 10/27 at 08:09 PM
(Total Pages: 1)
Commenting is not available in this weblog entry.