Pixilate
Date: 02/03/2005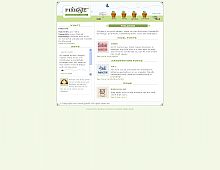 First thing that comes to mind when looking at this CSS design is "cute" and "charming." I did find some minor problems with the DHTML on the page, such as in Firefox, how the left "news" section jitters when you move the mouse over the top flower pot images. But I suspect that will be fixed soon. Very cute.
Rate It:
Color Scheme
Hovered color:
Selected color:
Comments (1)
Very "endearing" site. Very simple, attractive. Valuable links.

Clyde Davis
(Total Pages: 1)
Commenting is not available in this weblog entry.