Neubreed Design
Date: 10/22/2007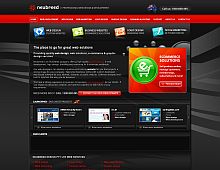 Rate It:
Color Scheme
Hovered color:
Selected color:
Comments (4)
romio
#1:
romio
on 10/23 at 05:32 PM
caylak01
#2:

emrah

on 10/24 at 03:17 PM
Why do designers feel the need to number their navigation items? It is just more clutter for no reason. It's not like we have to click them in order. Yes, we can see that the home tab is first, thanks.
#3:

tubes

on 10/26 at 11:09 AM
ererewrwe wrwrwr
#4:
tuncay
on 03/13 at 09:02 PM
(Total Pages: 1)
Commenting is not available in this weblog entry.