N Design Studio
Date: 09/26/2006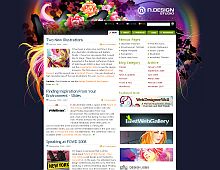 A very sleek design, boosted by the touch of Flash. My one suggestion is to improve the aesthetics of the menu links at the top, which seem too small and out of place.

Note: Screenshot last updated Sept 25th, 06.
Rate It:
Color Scheme
Hovered color:
Selected color:
Comments (6)
Agreed about the menu links, other than that though this site is just gorgeous, great pick!! I keep playing with those Flash menu buttons, it's so nice to see Flash used in this simple effective way.

I also tested this site with Flash turned off and full functionality is maintained, although it would have been nice to see a static image version of those lovely menu images as I think they make the site.

Definately a fave :)
I've been visiting NDesign Studio for awhile now and I have to say that I think it is a fairly under recognized design. He has done a great job with his site, a nice mix of content, graphics, and flash.
Great to see someone useing flash in a nice simple way. Not to heavy animations, simple but brilliant!
#3:
NeboN
on 03/25 at 11:58 PM
Beautiful, and definitely unique! It's great to see one that stands apart from all of the others.
#4:

Patrice

on 03/28 at 02:00 AM
Thank you for updating my redesign.
#5:
Nick
on 09/26 at 05:26 AM
What a beautiful design.
Respekt.
This is a free Template from Wordpress.org!
(Total Pages: 1)
Commenting is not available in this weblog entry.