Museum of Glass
Date: 09/09/2008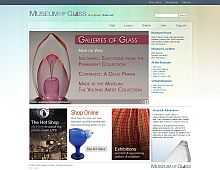 Rate It:
Color Scheme
Hovered color:
Selected color:
Comments (16)
Great design. This will go brilliantly with a antique/shopping site.
Serviced Offices
#1:

Mike

on 10/22 at 11:08 AM
Amazing design there.
edi
#2:

George

on 10/23 at 09:47 AM
Amazing design. Absolute kickass stuff.
Finejewellery
#3:

Michael

on 10/27 at 12:21 AM
Amazing designs there.. Great work done all around.
Bear
#4:

Lucas

on 10/29 at 06:25 PM
Excellent design ...
feel free to checkout my site to prevent STD..
appriciate your design sir.
thanks for sharing that design with us..
thank you so much..
the design looks absolutely stunning. It's prolly the best i've seen in a while.
Baby Names
Outstading Desing, I appreciate the way you present your thoughts.
Lovely desing sir.
#8:
Rosy
on 11/01 at 04:49 PM
Absolutely,outstanding desing...
i hope that you'll share your brilliant designs in future too
Free Online Games
#9:
Cathy
on 11/01 at 04:57 PM
Great design..Luv it!
Essay
#10:

Luis

on 11/02 at 12:52 PM
Commenting is not available in this weblog entry.