MP3.com
Date: 10/07/2004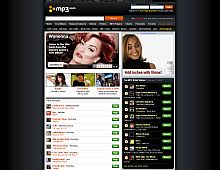 The rather complex design of MP3.com is a good illustration of what can be done using CSS in my opinion. One complaint- the rollover effect for the left navigation bar is a little slow to react, which can get annoying.

Note: Screenshot updated Dec 6th, 05'.
Rate It:
Color Scheme
Hovered color:
Selected color:
Comments (5)
good look...
#1:
tedy
on 01/30 at 04:37 AM
Looks good. I'd use it :P
Great design, however not really userfriendly. It has way too much info on the front page.

I like simple designs like this one: http://mp3techdeals.com
#3:
zp
on 02/24 at 07:35 AM
the design is better than mp3.com

http://mp3techdeals.com
I agree, the front looks way cluttered. I prefer simple designs. Easy on the eye and more user friendly.
(Total Pages: 1)
Commenting is not available in this weblog entry.