MonoLinea
Date: 02/26/2008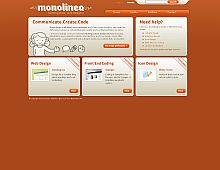 I love the compact box look of this design.

Note: Screenshot updated Feb 26th, 08'.
Rate It:
Color Scheme
Hovered color:
Selected color:
Comments (4)
Looks like a rip from a canned template in StyleMaster. Not too original for a Web Development studio.
#1:

Tom

on 12/02 at 12:16 PM
I respect your opinion, though it most definitely is not ripped from anywhere, the design is 100% original. Perhaps the similarity is with the stylemaster template I designed ( http://www.westciv.com/style_master/product_info/screenshots/01.html) ?
#2:
Kemie
on 02/26 at 08:21 AM
too clean, not enough detail
#3:

guy

on 02/27 at 12:11 AM
Accessibility issues...on the main menu! Come on now.
(Total Pages: 1)