Mom and Popcorn
Date: 05/29/2010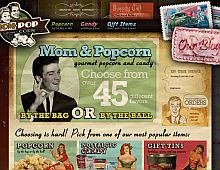 Rate It:
Color Scheme
Hovered color:
Selected color:
Comments (10)
I really love this design! Who doesn't like popcorn? I was impressed with how fast the site was with the amount of pictures that were used. Great site!

Brisbane Web Design
#1:

Tony

on 05/30 at 01:49 PM
it took some time to load the page but the old style pictures are very original and I liked the idea and style! Best, Jack from Riding Mower
It reminded me of old movies. The good old days. Really good concept.
nice... seem like classic magazine in texas :D
Hello guys!

I'm kitting out a workshop for my fiancee as a surprise when he moves to his new home. He wants to "tinker" mechanically, not woodworking, more car fix up or alternative energy creations. What would you put in his new workshop for tools? Thanks to all in advance!
Its [url="http://millionbillionmusic.com/"]
very cool[/url], vey nice, like this.

Thanks,
Free Cartoon Wallpaper
A monochromatic color scheme uses various darker shades, grayer tones, variations of lightness and saturation, as well as paler tints of a single color Ästhetische und Plastische Chirurgie. In addition, the one color is often paired with white or another neutral plastik cerrahi. This color scheme is very elegant and has a very clean effect. A good example of Monochromatic color schemes are paint swatch cards göğüs küçültme. If you look at the color wheel below, you will see that the middle band is the natural hue and as you go out towards the edges, the bands get lighter (more tinted burun estetiği), and as you go towards the center of the cirle the bands get darker (more shaded vajina estetiği). The Tertiary colors are Yellow-orange, red-orange, red-purple, blue-purple, blue-green and yellow-green burun estetiği. Tertiary colors are colors that are created by mixing a unequal amounts of two primary color with a secondary color brustvergrößerung. literally third colour, colors that are created by mixing unequal amounts of two primary colours nasenkorrektur. An example of this would be to mix two parts of yellow and one part of blue together to form the tertiary color of yellowish green lazer epilasyon merkezleri. Color theory is a set of principles used in order to create harmonious color combinations karın germe estetiği. With the use of color theory, you can combine colors together perfectly every time. Color representations can be visually represented by the color wheel, as seen below kepçe kulak estetik ameliyatı. If you follow the principles of the Color Theory, then the following colors are harmonious liposuction, yağ aldırma:
(1) 2 Colors Opposite of Each other on the Color Wheel are harmonious meme büyütme ameliyatı.
(2) Any 3 Colors Equally Spaced Around the Color Wheel Forming a Triangle are harmonious meme küçültme ameliyatı.
(3) Any 4 Colors Forming a Rectangle, Each Opposite of Each other on the Color Wheel are harmonious burun estetiği ameliyatı.
#9:
veli
on 06/10 at 07:54 AM
If you look at the color wheel below, you will see that the middle band is the natural hue and as you go out towards the edges, the bands get lighter air jordan shoes
(Total Pages: 1)