MailChimp
Date: 06/26/2008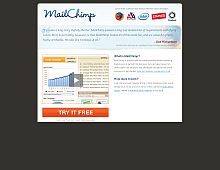 Rate It:
Color Scheme
Hovered color:
Selected color:
Comments (3)
Clean and simple design. I like the sliding tabs too.
#2:

Juan Bercian

on 06/26 at 04:39 PM
not a huge fan. its looks nice but i've seen so many web 2.0 application sites that look almost exactly the same.
(Total Pages: 1)
Commenting is not available in this weblog entry.