Lifestyle Photography
Date: 03/30/2006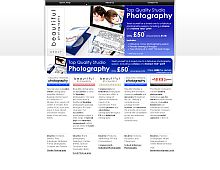 The black and white contrast in this design is very nice.
Rate It:
Color Scheme
Hovered color:
Selected color:
Comments (3)
The concept photography is really beautiful to look at. It is like presenting someones picture in a movie or hollywood trailer. It is the signature that gives its actual lifestyle touch.
The effects and additional features given by the photography is great. It looks like a trailer from a movie.
i love the design of the photo, it resembles something like an album of an artist.
(Total Pages: 1)
Commenting is not available in this weblog entry.