Lets Make It a Date
Date: 09/11/2008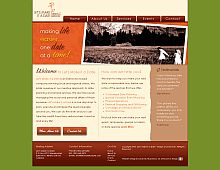 The top tabs could really use a makeover IMO.
Rate It:
Color Scheme
Hovered color:
Selected color:
Comments (5)
Navigation needs a little work, getting rid of the flicker is not that hard.
#1:
Craig
on 09/11 at 03:49 AM
What the green are doing there?
#2:
Tiago
on 09/11 at 05:04 AM
I'm surprised this one made into CSS Drive. The color scheme seems off - logo seems disproportionately small and out of line with the content, typography lacks pop, etc.
Dont like the green, doestn match the subject rly.
I'm not overly impressed with the colors, but I do really like the layout. Not bad overall....

Bathroom Tile
(Total Pages: 1)