Left Lane
Date: 01/27/2006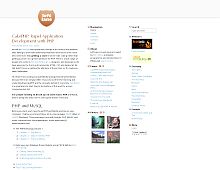 A very clean cut, organized design. Only caveat is the font is a little small IMO.
Rate It:
Color Scheme
Hovered color:
Selected color:
Comments (4)
Are you serious about this? It's basically the K2 Wordpress theme with an extra column.

How original...
Nothing wrong with a nice K2 implementation, as long as it's a great implementation. At least in my book. And it's no secret this is a K2 adoption, as mentioned in the footer of that site.
great use of light colors! good job!
Nice, but plain.
#4:

Amie Kingston

on 11/10 at 04:02 PM
(Total Pages: 1)
Commenting is not available in this weblog entry.