kyanmedia
Date: 03/30/2006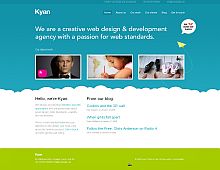 A great example of a super clean design. I'm not overly found of the CSS menu effect at the top though, which look a little crude.
Rate It:
Color Scheme
Hovered color:
Selected color:
Comments (3)
I really like this site, especially how it grows in size when you increase the font size, notice how the images grow as well to keep the design style the same. Good accessibility options and structure.
#1:

NLosure

on 04/01 at 12:48 AM
I guess they make stunning websites, except of there own... Can't say i like it, too 'done' and too 'passť' (can I say that here???)...
lumayan
#3:

habibie

on 12/21 at 02:37 AM
(Total Pages: 1)
Commenting is not available in this weblog entry.