Kent District Library
Date: 10/21/2007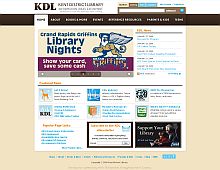 Rate It:
Color Scheme
Hovered color:
Selected color:
Comments (6)
sec203 invoice las vegas nv
Great PL site! A fantastic example of ease-of-use and web2.0 integration!
#2:

Sheryl

on 11/06 at 09:12 AM
Very nice site. My library should take note.
#3:

Mark

on 11/06 at 09:15 AM
Great looking site. Really like the book cover art lists. Catalog could be a little nicer though. Looks like it's a different site.
#4:

eg345

on 11/06 at 09:17 AM
Nice site -- for a public library ;-)
#5:
Nate!
on 11/07 at 01:27 PM
love the website
#6:
Here
on 05/13 at 06:53 PM
(Total Pages: 1)