Juicy Digital
Date: 05/19/2010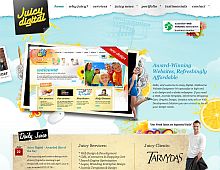 Rate It:
Color Scheme
Hovered color:
Selected color:
Comments (7)
nice thema and colours scheme.
Great work with this website. I love the transparent drop down menus.

Great work!!

Brisbane Web Design
#2:

Robin L

on 05/22 at 01:27 PM
IŽll try to implement this templates on my designs (lampadas acompanhantes)
Thanks!
#4:

Eduard Miles

on 05/25 at 05:18 PM
I liked the blue and lime slice on the right..not sure about the guy. What does it mean? Impressive portfolio too!
Best, Jack from Riding Mower
#6:

Mower Jack

on 06/01 at 04:44 AM
Very nice site with a good portfolio of work!

<a href"=http://www.wmjames.co.uk">Fruit Cages</a>
(Total Pages: 1)