Jeff Croft
Date: 10/26/2005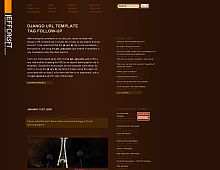 Excellent use of gradient backgrounds. The stylish icons also contribute a lot to making this design attractive.
Rate It:
Color Scheme
Hovered color:
Selected color:
Comments (1)
The drop-down menu is really inovative. Perhas there could have been a better choice of fonts for this design (?). But overall, it's 2 thumbs up from me.
(Total Pages: 1)
Commenting is not available in this weblog entry.