Jake Tracey
Date: 10/19/2005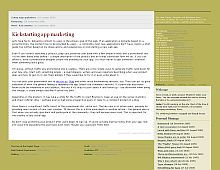 An elegant and fluid layout that's also relatively easy to emulate, even for beginner web designers. I like it.
Rate It:
Color Scheme
Hovered color:
Selected color:
Comments (1)
this is very cool
#1:
king
on 10/21 at 05:44 PM
(Total Pages: 1)
Commenting is not available in this weblog entry.