Hribar
Date: 08/14/2006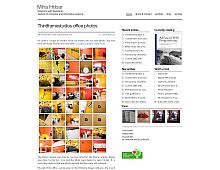 A simple and clean layout. Sometimes just black and white works nicely.
Rate It:
Color Scheme
Hovered color:
Selected color:
Comments (3)
Thanks a bunch!
#1:
Miha
on 10/09 at 08:12 AM
muy interesante!!!
me gusta el diseņo
#2:

Victor Manuel Fuentes

on 08/16 at 08:13 AM
This is probably one of my all-time favoite site designs. I, myself, am a designer and love the simplicity of this site. It just goes to show that fancy, Flash built, garbled websites aren't always the best. Nice Work!
#3:

Kyle

on 10/18 at 08:13 AM
(Total Pages: 1)