Houston Apartment Help
Date: 09/30/2007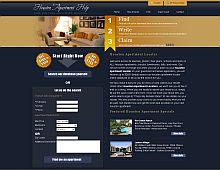 Rate It:
Color Scheme
Hovered color:
Selected color:
Comments (5)
Nice... good usage of color and contrast, pictures, and gradient touches.
#1:

cssdriveMIKE

on 10/01 at 12:12 PM
As well as its vast amount of high-quality and well-equipped ski areas, skiing in France and the French Alps also offers an array of varied accommodation choices and plenty to do off the slopes.
#2:
teren
on 04/21 at 03:57 PM
Love your use of color and pattern but I think I would get overwhelmed if I lived there. And, it seems like it would be hard to change the current style without redoing everything.
I got some nice Christmas money, so I went out and bought a new 80GB iPod Video.
Every room and personal preference is different, so trust yourself when it comes to making adjustments and modifications for your set up.
(Total Pages: 1)
Commenting is not available in this weblog entry.