Get Me Fast
Date: 12/07/2008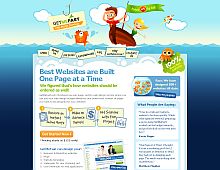 Rate It:
Color Scheme
Hovered color:
Selected color:
Comments (5)
At first glance it looked like a travel site to me. hehe anyways, the design is good. Certainly a good inspiration.
#1:
Rahul
on 12/07 at 04:09 PM
Teh design is good.
#2:

kozen

on 12/12 at 03:47 AM
Amazing design. This should set a new precedent.
Wordpress Themes
#3:

Marger

on 12/31 at 09:15 AM
Stunning stuff..Wish I could get my hands around one of these.
http://www.gadgets4nowt.co.uk/
#4:

Lewis

on 01/03 at 08:29 AM
Excellent Design i wish i would have designed this page for indusnet.
#5:

neha

on 01/04 at 12:17 PM
(Total Pages: 1)
Commenting is not available in this weblog entry.