EyeMagine
Date: 07/21/2009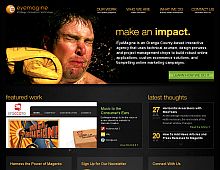 Rate It:
Color Scheme
Hovered color:
Selected color:
Comments (10)
such a really good information for me.............................
Cool pic on the home page. Clean layout.
I like the texture used in the background
this layout is very sexy looking.....
face lift cream
#6:

face lift cream

on 08/01 at 04:08 AM
sick!!
#7:

a-train

on 08/06 at 03:52 PM
Attention-grabbing, clean, user-friendly, up-to-date.
Generally awesome!!
#8:

Melanie

on 08/06 at 04:24 PM
Great layout! Love the colors and feeling of energy. 10/10!
#9:
Madi
on 08/06 at 04:35 PM
(Total Pages: 1)