Elan Snowboards
Date: 09/26/2006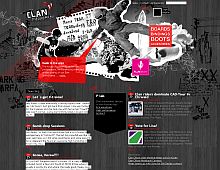 Usually I shy away from featuring Flash oriented sites, but this one is just too sexy to ignore. I'd remove the extra white space at the bottom though.

Note: Screenshot last updated Sept 25th, 06.
Rate It:
Color Scheme
Hovered color:
Selected color:
Comments (2)
This site looks great. I love the design. I am really curios about how the tabs were done. is that CSS as well? Great work!
10x. Tabs are done with CSS and images...
#2:
Grega
on 10/02 at 04:35 PM
(Total Pages: 1)
Commenting is not available in this weblog entry.