E3Solutions
Date: 03/11/2009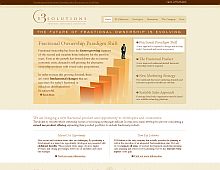 Rate It:
Color Scheme
Hovered color:
Selected color:
Comments (2)
Very nice site, very clean... is that the same background image across the board in the slideshow on the home page? that is pretty cool...
#1:

Simon

on 03/11 at 12:23 PM
Nice. I think a single highlight color would be better though. Maybe a deep aqua blue to bring out a touch of highlight in the design.
(Total Pages: 1)
Commenting is not available in this weblog entry.