Dreamtime
Date: 11/03/2009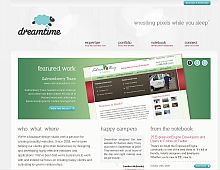 Rate It:
Color Scheme
Hovered color:
Selected color:
Comments (2)
Very Fresh ! Excellent work on the typo.
Make the fonts bigger in the navigation....they are a bit small currently and there is plenty of room for them to grow.

Otherwise, nice job!
(Total Pages: 1)
Commenting is not available in this weblog entry.