Dot Flowers
Date: 10/24/2004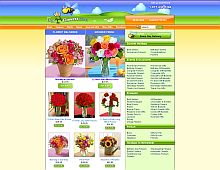 Wow, what a visually provactive design! I'm still undecided how much I like it, though I definitely like it! The site even has "Access Keys" built into its navigation for people that require it. Very cool.
Rate It:
Color Scheme
Hovered color:
Selected color:
Comments (3)
I love the colors! :)
#1:
Emma
on 11/04 at 11:01 PM
Ah what a beautiful work of art, its so vibrant of color and much nicer than any other flower site around. If I was going to get some flowers, I guarentee it would be from dotflowers.

Does anyone know who did the css and layout for this site?

Xhtml strict and valid WOW!
#2:

mike

on 05/18 at 07:05 PM
it says
Author: russ wittmann
in the css
#3:

mike

on 05/18 at 11:33 PM
(Total Pages: 1)
Commenting is not available in this weblog entry.