DDC Design
Date: 11/29/2009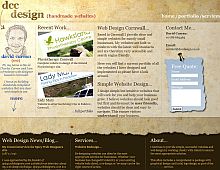 Overall a nice design, though IMO links need to stand out more- as is it's hard to tell what is clickable and what isn't.
Rate It:
Color Scheme
Hovered color:
Selected color:
Comments (2)
I agree. The parts they want to accentuate need to stand out more.
The design is great, the layout is mehhh.. You have to spend some more time working on the site architecture because there is just way too much content on this page.

Maybe pull the project back to the wireframing stage, so you can think objectively about the goals.
(Total Pages: 1)
Commenting is not available in this weblog entry.