Cottonseed Oil Tour
Date: 11/20/2007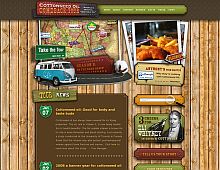 Rate It:
Color Scheme
Hovered color:
Selected color:
Comments (4)
Nice looking and surprisingly functional.
#1:

Gunnar Bruun

on 11/20 at 06:00 AM
Love the artistic freshness of this interface!!! Something different than the old standard. Wonderful! That's thinking outside the corporate box there... and a lot of other BOXES as well.

Show me more.
#2:

cssdriveMIKE

on 11/20 at 06:47 AM
Nice site. Too bad Cottonseed oil is one of the most unhealthy oils you can consume.
#3:
Jerry
on 11/20 at 09:32 AM
coba css buatan pak rizki
#4:
kiki
on 11/24 at 12:20 AM
(Total Pages: 1)