Cosmosart
Date: 12/10/2007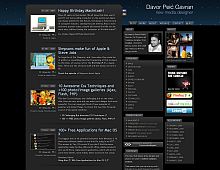 Note: Screenshot updated Dec 10th, 07'

A very elegant design. I love the "night" theme and how well it's done. Never thought I'd say this, but excellent use of a titling background image too.
Rate It:
Color Scheme
Hovered color:
Selected color:
Comments (2)
Good job! Its nice to see a great design using ExpressionEngine
#1:
Efrain
on 12/18 at 02:18 AM
Good story for a introspective psychological novel, makes you analyse people in the depths of their minds
(Total Pages: 1)
Commenting is not available in this weblog entry.