Cathedral City
Date: 05/10/2010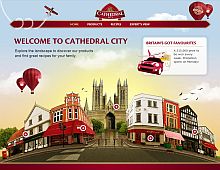 Rate It:
Color Scheme
Hovered color:
Selected color:
Comments (6)
The illustration in the home page is nice one.
Its got a 3D look and feel to the design. I love it!

Brisbane Web Design
#2:

Robin L

on 05/22 at 07:41 PM
Ideal design for travel sites. The city style theme makes the design look more appealing to visitors for sure!Jack Mower
#6:
JackM
on 06/08 at 02:30 PM
(Total Pages: 1)
Commenting is not available in this weblog entry.