CAFS
Date: 06/15/2005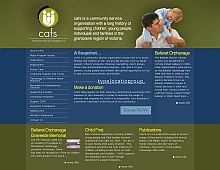 Two things that make this design stand out are the rough edges surrounding the left column, and how the two columns on the page have differing heights. A typical design until you start scrolling the page.
Rate It:
Color Scheme
Hovered color:
Selected color:
Comments (2)
The colors used definitely makes it a very "organization" based design. I think Unicef once used the same colors.
(Total Pages: 1)
Commenting is not available in this weblog entry.