Brief2Design
Date: 05/18/2010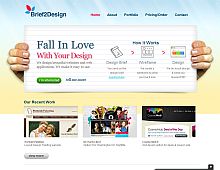 Rate It:
Color Scheme
Hovered color:
Selected color:
Comments (10)
I liked the colors but the header is too high, you need to scroll so much..
Best, Jack from Riding Mower
#6:

Mower Jack

on 06/01 at 10:46 AM
I like the colors, but what I like most is the banner style header. Seems like somebody is holding a banner so that the viewers will know the theme of it.Jack Mower
#8:
JackM
on 06/04 at 05:08 PM
Art is a great source for inspiration but that inspiration does need to be tempered with a bit of editing or consideration for the optimal level of variety and contrast estetik. I do hope the e.giftshoppe keeps in mind that application of 1 color in a variety of different textures or paired with another low contrasting color can look amazing plastik cerrahi.
Just think about it... the apple store uses primarily white, silver and light tan for their store interiors meme büyütme. Another example is a selection of dark silks and furs used in either interior design or fashion look gothic and opulent meme küçültme. I will concede that when it comes to 2 dimension art (paint, print and digital alike burun estetiği ameliyatı) contrast is very important and a good balance must be maintained to ensure readability. I often look through magazines and select a page that has colors on it I like botoks. It can be a landscape, still life, food, flowers - just about anything. I take a paint fan deck ( I use Valspar göğüs küçültme), choose 3 or 4 colors and match them up in the fan deck. I have the pictures choose the colors for me burun estetiği.
#10:
veli
on 06/10 at 10:15 AM
(Total Pages: 1)
Commenting is not available in this weblog entry.