Boxing For Fitness
Date: 10/11/2007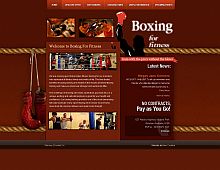 Rate It:
Color Scheme
Hovered color:
Selected color:
Comments (11)
Looks really nice graphically, one thing I dont like is the "boxing for fitness" text, the outer glow just doesn't cut it. Another little niggle, is the use of more than one type of typeface, not just different typefaces, but different categories altogether! Seems a little.. erm.. different!
Looks clean. Easy & consistent navigation which is good. The only thing that I can suggest is if you can work on the logo "boxing for fitness". It doesn't blend in with the rest of the design and looks too "raw"/undeveloped. Good job and keep it up.

Dee
Sityodtong Muay Thai
#2:
Dee
on 02/09 at 06:11 PM
I love it, nice work. Only thing I would change is making "fitness" as big as "boxing", that way it looks a bit more even, and both points are bold.
Nice, looks clear and easy too look at. Only thing is that maybe the logo needs some improving.
Good design. The font could have been touched upon but overall the design is top grade.
Top notch stuff.. This will fit straight into notice for someone on the lookout for a sports related site.
#6:
Daniel
on 08/11 at 04:13 AM
Great design. This has to be among the neatest design around in CSS drive.!
Very nice graphics and colors. Good overall look and feel. Nice job!
A good post for web designers.This emplates looks very nice.

Manny Pacquiao
the layout looks very professional and clean. [url=http://blogger-and-the-blog.blogspot.com/2008/10/pacquiao-vs-de-la-hoya-dream-match.html]Pacquiao VS De La Hoya
#10:

Jayr

on 10/24 at 08:31 AM
Commenting is not available in this weblog entry.