Black Rabbit
Date: 06/02/2010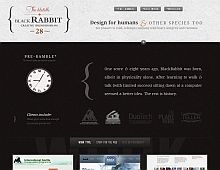 Rate It:
Color Scheme
Hovered color:
Selected color:
Comments (4)
The combination of all the colors is a little bit dead. All black background looks very sophisticated, but much better if other color is mixed with it.Jack Mower
#1:
JackM
on 06/04 at 10:58 AM
i like color scheme.black color is very good.

Bosch Servisi Avcılar

Bosch servisi olarak uzman teknisyenlerimizle 7/24 beyaz eşya klima ve kombi teknik servis hizmeti veriyoruz.15 yılı aşkın süredir binlerce beyaz eşya onardık.
100de100 müşteri memnuniyeti.
#2:

Bosch Servisi Avcılar

on 06/04 at 12:21 PM
Well the website name explains this website. Its very unusual to see a website turn out this good with the colors you used. However, you really nailed it!! I like the design and how easy it is to navigate through the site. Good work!

Tony
Brisbane Web Design
#3:

Tony

on 06/06 at 11:00 PM
Every color available to us without any varition are called natural hues göğüs estetiği. Each of these natural hues can have a variation in tint, shade, or tone meme büyütme. The way that these variations come about are by combining natural hues with black, white, and all the grays in between meme küçültme. Even though many of you probably use the following terms on a regular basis, some of you might not know exactly what they mean or how they can help you in your website design burun estetiği. Complementary colors are two colors that are opposite each other on the color wheel, such as purple-yellow and red-green vajina estetiği. When you mix too complementary colors you produce a greyish color lazer epilasyon merkezleri. If you put two complementary colors side-by-side, the complementary colors intensify each other plastik cerrahi merkezleri. This scheme works best in situations where you need high-contrast compositions göğüs küçültme. You see complementary color schemes in nature all of the time, such as red flowers with green leaves, peppers, exotic fish, birds, snakes, and many more burun estetiği. The analogous color scheme uses 3 colors which are side-by-side on the 12 part color wheel vajina estetik ameliyatı, cinsel organ estetiği. The middle color is considered the ruling color. So for example, in a green, blue, purple color scheme, blue would be the ruling color botoks. One color, the ruling color, is used as the dominant color while the other two colors are used to enrich the scheme Plastische Chirurgie.
#4:
veli
on 06/10 at 07:14 AM
(Total Pages: 1)