Ben Hayward Cycles
Date: 03/13/2006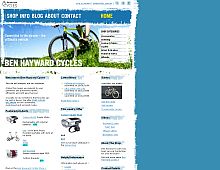 The images and code all come together nicely in this design to create a rich, eye candy interface. The only thing I'd improve upon is the top right "Shop Categories" menu- perhaps add a background color hover?
Rate It:
Color Scheme
Hovered color:
Selected color:
Comments (2)
Excellent accessibility options and page construction. Page layout is nice. Truely refreshing to see designers utilize css to it's full potential for accessibility.
#1:

Nathan Losure

on 03/13 at 08:59 PM
Nice! I love the rustic but clean look, great colors, good layout and use of typography. I'm not a big fan of the 3-column layout, always seems to much to ask of visitors to sort through that much content on a home page, but at least this 3-column layout is well spaced and presented.
(Total Pages: 1)
Commenting is not available in this weblog entry.